A 7-year-old Ukrainian boy, who is the first child released under a new mechanism Qatar has set up with the goal of repatriating children from Russia to Ukraine, stands with his grandmother while interacting with Russia's Commissioner for Children's Rights, Maria Lvova-Belova and a Qatari diplomat in this handout image taken at Qatar's embassy in Moscow, Russia
Calls for Ukraine to cede territory ignore the reality of life under Russian occupation: it isn't just handing over territory, but children.
The original commentary by Jade McGlynn was prepared and published by The Telegraph and published by the Ukrainian Center for Security and Cooperation with the author's consent.

Four Ukrainian children who were taken to Russia following its full-scale invasion of Ukraine are to be returned to their families as part of a deal brokered by Qatar after months of "secret talks".
Every child saved and returned to their family is, of course, a cause for celebration, but let's not be fooled by Kremlin photo-ops. This is a cynical ploy by Vladimir Putin to present the Russian government as misunderstood; as the sort of people you can negotiate with.
Two weeks ago, Ukraine's Centre for National Resistance, which supports the Ukrainian underground in the territories occupied by Russia, warned western journalists of upcoming well-financed efforts to whitewash Maria Lvova-Belova, Russia's ghoulishly-titled 'Children's Rights Ombudswoman', who is accused by the International Criminal Court's prosecutor of deporting Ukrainian children to Russia.
While we celebrate the return of four children, it is vital we do not forget the other 20,000 children Kyiv says are held captive by Russia – kidnapped from the razed cities and towns of east Ukraine, from orphanages, and from institutions for children with mental and/or physical disabilities.
Some were separated from their parents during the fighting, others were orphaned due to Russia's invasion. Still others, known as 'children of the state', were already orphans, or lacked any relatives capable of taking care of them.
Returned Ukrainian children from Russia
Some brave Ukrainian parents have managed to reclaim their children through terrifying visits into Russia, crossing filtration camps and war zones. Yet while it is tempting to linger on the joy a child must feel when a parent or grandmother comes to wake them up from their nightmare, such cases are outliers – according to the Ukrainian government, only 400 children have been returned that way.
Instead, reality calls us to contemplate the despair a child must feel to realise they are alone, in a friendless place that wants to destroy everything they call home, and that nobody is coming for them.
The longer children stay in Russia, the higher the chance that they have become untraceable, with their names changed and records expunged. Those with parents are told their families don't want them anymore, that Russia has saved them, and are given new identities, supposedly to protect them from hateful Ukrainians. They are settled with Russian families from a government-approved register, who receive as much as $1000 for every Ukrainian child who takes Russian citizenship.
The Russian government also organises specialised summer camps and schools for children in occupied territories and those already kidnapped. The patriotic education classes spew brutish Putinite propaganda to indoctrinate the children to hate their own country. Some of the schools are guarded by armed Russian Cossacks, against whom allegations of child abuse have been levied.
Once the Russians have broken the children, they are used as propaganda.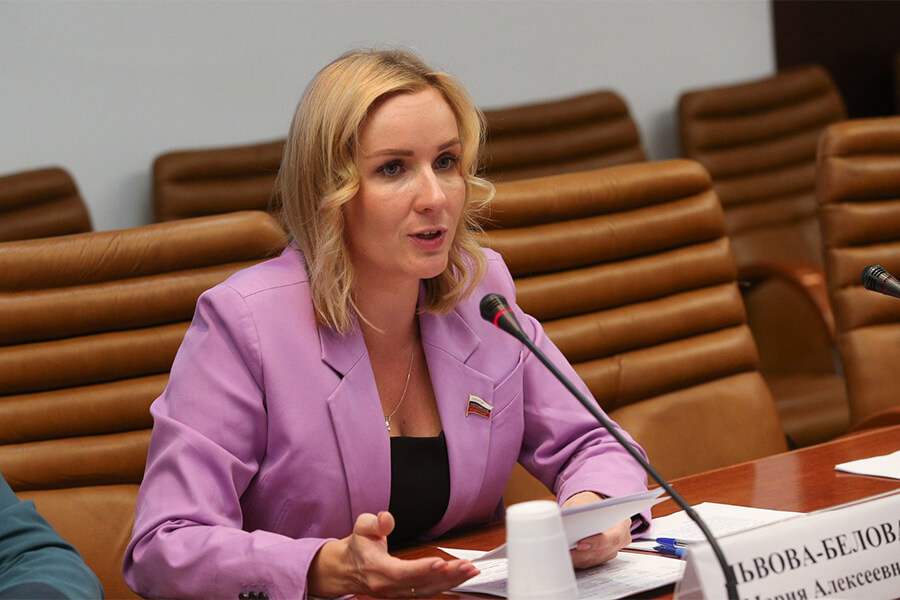 Maria Alekseyevna Lvova-Belova – Russian Presidential Commissioner for Children's Rights.

Russia's child-snatcher-in-chief, Maria Lvova Belova, has boasted of indoctrinating abandoned children from Mariupol. Speaking to Russian state television, she explained how these children at first sang the Ukrainian anthem even in Russian captivity. But after months of experimental psychological pressure, they broke down and declared their love for Russia.
Many children traumatised by their experience of Russian bombs, shells and torture will likely be sent to 'institutions for mentally delayed' children in Russia. When I worked in one such orphanage in Pskov region, Russia, it was obvious that many of the little ones did not have mental disabilities, but rather understandable mental health difficulties due to their circumstances. The Soviet legacy meant that the child psychiatrists perceived normal reactions to neglect and cruelty as abnormalities from which 'normal society' must be shielded.
Like their Russian counterparts, the Ukrainian children sent to such dank institutions will not have their own toys or clothes, they will be 'looked after' by underpaid and uncaring 'governesses'. At worst, their traumas will see them sent to specialist units for months or years on end. Among the children I knew, those with the most acute conditions were sent to a place cruelly called Bogdanovo (literally: 'place given by god'), where they were drugged and chained to beds. The children who came back from Bogdanovo were not the same children as went in.
This is the current and future fate for hundreds of Ukrainian children living in Russian captivity. And deportations are ongoing. Only recently 300 children from occupied Zaporizhzhia region are believed to have been sent to Russia on an educational programme. Previously, children sent on such trips have never returned. At the same time as this well-publicised trip, parents in occupied Zaporizhzhia were given until the end of October to force their kids to take Russian citizenship or risk having them taken away. It has already reached the point where parents must choose between their nation and their children. The choice is obvious, but it is also one that parents in unoccupied Ukraine don't have to make.
The Russo-Ukrainian war is a long war. Kind people, not directly impacted, cannot bear the pain and so turn away. Calls to pressure Ukraine to concede territory are often part of this understandable desire to turn off the suffering, to make it stop. But it wouldn't stop the horror. Such calls ignore the reality of life under Russian occupation: it isn't just handing over territory, it is also handing over more terrified children who know nobody can find them.
---
Dr Jade McGlynn is a Research Fellow at The Department of War Studies at King's College London. Her latest book, 'Russia's War', was published in March